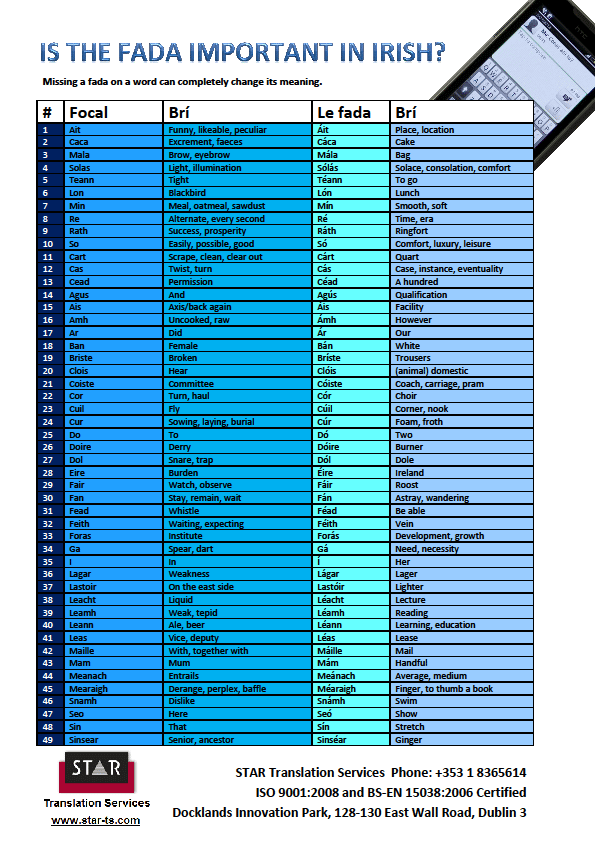 Is the fada important in Irish?
Yes it is. It is a very important part of the language. Lon and Lón might look the same, but they're very different words. If you're not familar with Irish it is easy to think the fada doesn't matter.
49 Reasons Why the Fada is Important in Irish
We put together our poster with 49 words showing the different meanings when the fada is used. The fada can completely change the meaning of a word.
For example, bríste is trousers however, if you omit the fada it becomes briste meaning broken. We have compiled a list of our top 49 words where this makes a big difference.
What is a fada?
The fada is a diacritic mark in Irish. It's the little right slanting line just placed above the letter o here in Lón. It can be added to any vowel (aeiou). However it is not just an addition to the letter. It is a different letter in it's own right. Thus the difference between the two words.
Next time you want to eat lunch – make sure you use Lón. This means lunch. If you use Lon, you'll be eating a blackbird.
Yes – the fada is important to the irish language. Omitting a fada is more than a grammatical mistake. A missing fada can completely change the meaning of a word.
Download the PDF for our complete list of words here.
How do you type a fada on the keyboard?
To get a fada on the keyboard how down the "Alt-Gr " key and press any vowel at the same time. You'll get a fada on the letter. If you can't see a key on your keyboard that says "Alt-Gr", it is usually the ALT key on the right side of the space bar.
Drop us a note below if you know of any other good issues if you forget the fada. We'd love to hear and share them.
Please feel free to download and share the pdf.
Freelance Irish Translator
Do you want to join our professional team of Irish Translators?
See our Irish Freelance Translator page for more information.
Advert