English to Irish Translators • Seirbhísí Aistriúcháin Béarla Gaeilge
From our Dublin city offices, our teams manage the translation and delivery of Irish language translation. We translate from English to Irish and from Irish to English.  Our customers include Irish public sector and government departments, private companies, utility companies, web designers and advertising agencies. We are proud to work with many Irish state departments including Revenue and Social Protection. If you need an Irish Translator we are here to help.
We employ native Irish speakers with specialist translation expertise to deliver a complete solution for your Irish translation. Translators work to An Caighdeán Oifigiúil standard.
We also offer proofreading services for customers who need to have documents checked that are already in Irish. Translation is completed to ISO 9001 and ISO 17100 certified. For specialist translation requirements, we also employ translators accredited to Fóras Na Gaeilge. We employ our own 6-step quality process that ensures you receive the highest quality translation.
Translation is proofread by a second separate proofreader to ensure STAR level of quality. This process ensures consistent high-quality Irish throughout. We use TermSTAR and WebTerm to create and manage our Irish Dictionaries which are used by all our translators. This means we have the most up-to-date Irish terminology for government documents and policies.
Irish Translation Services for the Public Sector
Delivering translation for government and public sector requires the highest levels of quality and the ability to deliver large volume translation projects. We work with a number of government agencies delivering documents in the areas of pensions, welfare, immigration and health and safety.
Alongside our Irish translators we also translate government documents into languages such as Chinese, Arabic, Romanian, Russian, Polish and French covering all resident nationalities. We cover all your departments language needs.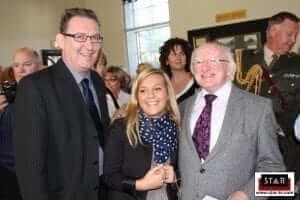 Accredited Translators
We are often asked if our translators are accredited to Fóras Na Gaeilge: we work with a number of Irish translators who are Fóras Na Gaeilge certified. Our translation process is also ISO 9001 and ISO 17100:2015 certified. Our focus is on quality translation and only a limited number of Fóras na Gaeilge approved translators meet our stringent quality standards.
Customers
Our customers include government departments and commecital companies in Ireland. We translate for key government departments such as the Department of Social Protection: translating into Irish and other languages. We also translate for many county councils and boards. If you require further information on departments in your area, please contact us.
File Formats
We work in virtually any file format. Some of the leading file formats we cover include QuarkXPress, Adobe InDesign and FrameMaker, Microsoft PowerPoint and Excel, Adobe Acrobat PDF and HTML and XML.
Learn how to pronounce Irish words and phrases with our Learn Irish series on YouTube.