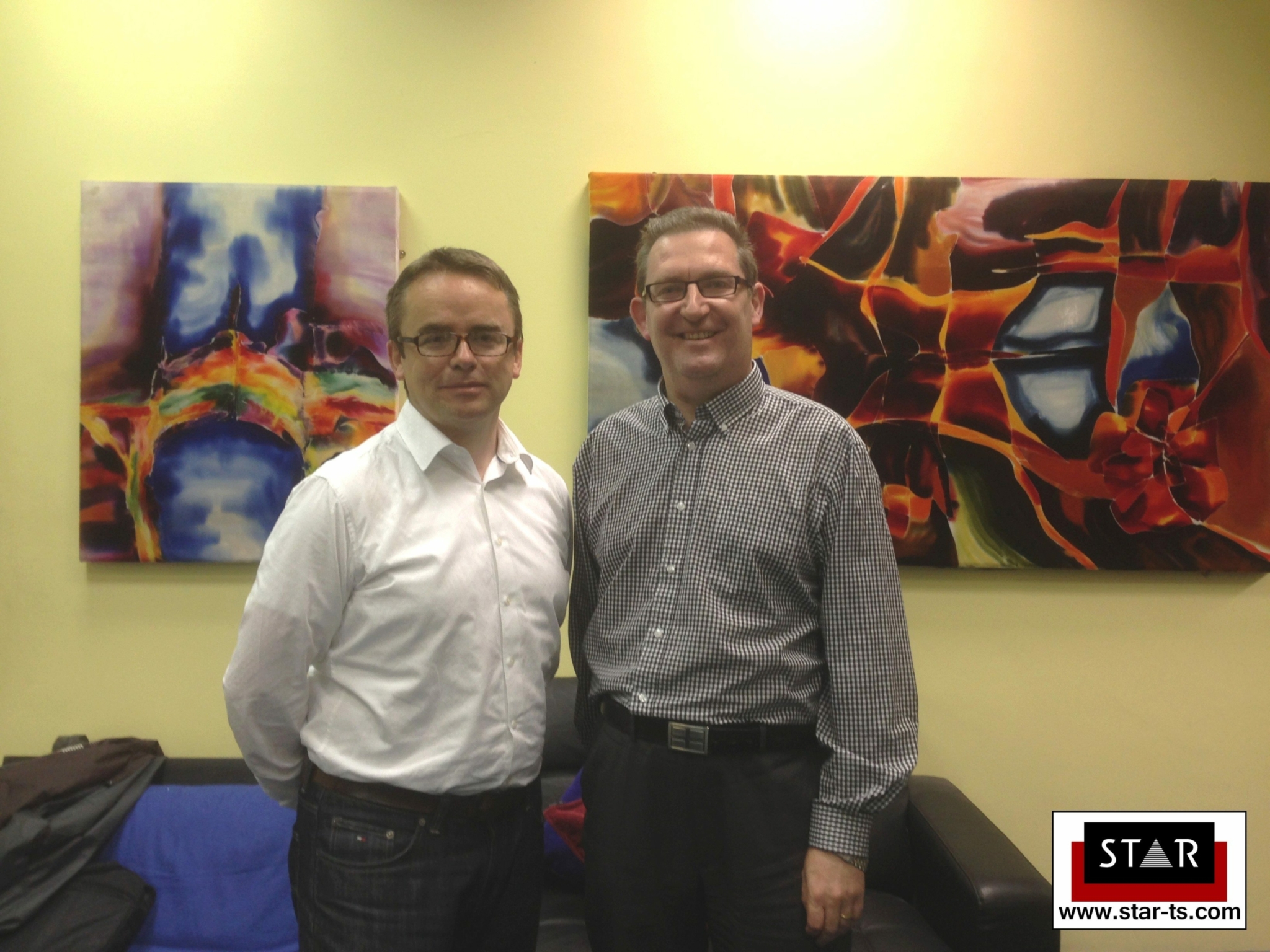 STAR On-Air with Dublin City FM
Last Friday, STAR Translation was on-air, radio channel 103.2FM, discussing translation with Alex Gibson of the Persuaders.
The Persuaders is Dublin's only dedicated marketing show covering a diverse range of topics such as advertising, digital trends, sales promotion, sponsorship and direct marketing. Each week presenter Alex Gibson interviews top Irish and international guests and reports from major Irish conferences covering marketing topics.
Alex Gibson is also Head of Department and Marketing Professor in Dublin Institute of Technology. Damian Scattergood, Managing Director of STAR Dublin, was this week's guest in the midday on-air show part of Dublin City FM's broadcast. Damian and Alex discussed the growth of STAR in Dublin and shared anecdotes on translation projects like video translation and also advice on how to develop marketing strategies and businesses abroad.
The latest trends in international marketing are seeing a lot more richer content. With new technologies being released all the time this puts increasing demands on the translation service providers. Providers need to keep up to date with new content and new digital marketing techniques. STAR has added new services to its offices including ecommerce website translation, video translation and subtitling services. More and more websites are now multilingual and content is ever more demanding. Damian spoke about the growth of the Chinese economy. With over 800 million mobile devices in China, mobile computing, websites and translation is all important.
Marketing translation has become more and more important as companies reach out across the globe. The key point that Damian made encompassing this was that it is important to do some homework (with your translation provider) before you launch a product worldwide, well before translation. There are many examples of product names that mean unfavourable things in other languages. The classic example is the Chevy Nova, when translated into Mexican Spanish it means won't go. Your translation company can help you check your brand name in other languages to ensure your product will appear well in your target market.
On the technical front, choosing technology for your website, or indeed your authoring tools, is also important. Some content management systems work well in translation — others not so much. The choice of CMS can hamper or aid your translation process later and impact its costs accordingly.
Adobe InDesign, for example, is becoming the de facto standard for brochures. It's a little more expensive to buy than some of its competitors, but it is completely internationally enabled so you can translate InDesign files easily into any language. Translation is thus, easy and cost effective. It's the best at what it does.
For more information and advice on translation services, contact Damian Scattergood at STAR on +353 (0)1 836 5614.
You can follow the show and all things marketing by following Alex Gibson on Twitter.
Thanks Alex and Dublin City FM!
Advert