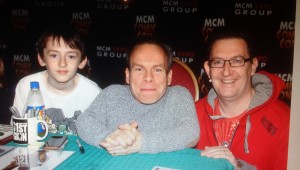 STAR Translation meets Star Wars crew at Comic Con
Translation is a tough business but it also has a softer side too.
Damian Scattergood, our managing director, has a keen interest in science fiction and conlangers. Conlangers are people who create languages. What is a conlanger?
Last week, Damian went to MCM Comic Con in the RDS Dublin to check out the latest in sci-fi and got to meet some of his heroes.
There were a number of actors and writers at the convention meeting their fans and sharing stories. Ian McNeice of Doctor Who was there, alongside Lyndie Greenwood of Sleepy Hollow and Danny John Jules and Hattie Hayridge of Red Dwarf.
The biggest STAR was Warwick Davis, famous for his roles in STAR Wars, Willow, Harry Potter and many more well know films. We, along with Damian's son Nathan, had the opportunity to have a quick chat with Warwick. Damian is a huge Star Wars fan, so he was thrilled to meet one of his own childhood heroes.
The 501st Legion were also on duty for the entire day. This is an amazing group of people who attend events in full Star Wars costume. They work with charities and commercial organizations making events really stand out for kids, both big and small! For more information on the legion and how to hire them, visit the 501st Legion.
It was a great day and one we'd recommend to anyone interested in sci-fi.
How good are you at sci-fi languages?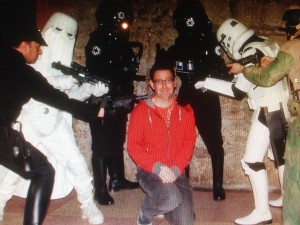 Advert