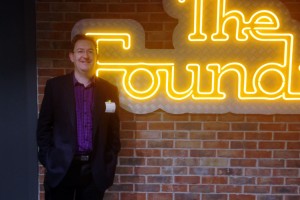 Landing pages by Google
Web designers and marketing gurus are always on the lookout for the next killer design for landing pages or home pages.
Getting new customers to your site and then having them buy, or convert […] is a tough challenge. Recently, Google held a presentation in the Foundry, part of Google's EMEA HQ called Breakfast Briefing to share their best practice advice for website design.
Damian Scattergood, our managing director, attended and here's what he learned…
Landing pages

Interestingly, the most important point about landing pages is that "Every page on your website is a landing page". In terms of SEO and the copy on your website, you should consider every page as a landing page. People often consider a few pages as actual landing pages though. The logic is that at some stage, someone will land on any page of your website. What will they do when they get there? Every page should be a landing page and have a call to action on it.

Keep it simple

Google advised that all web pages should be simple and to the point. Don't talk about how brilliant you are. Nobody really cares. They came to your page for a reason; if they want to buy a washing machine, they'll need to know the price, credit terms and how to buy it. That's it! They can drill down into other pages if they want more information. Don't overcrowd your pages with text either. We were shown an example of a dentist's website that talked about where they were located and how great the clinic is however, the site didn't mention anything about teeth.

Use simple graphics

When it comes to web design, keep the images strong but limited. On an obvious note, it takes ages to download lots of images which makes users frustrated. Design your site yo be simple, giving a general idea means that it's clear and easy for users to find what they want and how to do it.

CTA (Call to action)

Make sure all your pages have clear call to action buttons. Just one is sufficient. Two at maximum. Make it easy for your customers to read your text by keeping it short and straightforward. Make the site easy to navigate so that they can find the next step in the process. Do you want them to call , email or send something to you?

Short web pages

In today's busy world, people don't have time to scroll down 2 to 3 pages to get to the information they need. It should always be visible. On smartphones this is even more important; keep your pages short and to the point.

Use bullet points

Bullet lists are easy to read. If you have lots of information on features of the products / services you sell, then list them as 1, 2, 3… It's easy to read and to the point. Long descriptive passages aren't read anymore. Keep bullet points on one line. Don't turn them into "bullet paragraphs".
We hope this helps you on the way to improving your landing pages and getting the conversions you need.
Advert