Première at tekom: PRISMA server platform for smart content services
This year's annual tekom conference in Stuttgart saw STAR unveil its latest new development before a packed audience: PRISMA provides intelligent content for digital processes and working environments, thereby supporting current and future trends such as Industry 4.0 and the Internet of Things. PRISMA ("Process-oriented Real-time Intelligent Service Memory and Assistant") is a server platform for smart content services and one of STAR's biggest milestones since GRIPS..
Current discussions about digitalisation focus all too often on IT-controlled processes, which ignores the fact that even in a digitalised process, some work steps still have to be carried out manually. Yet it is precisely these digital processes that are posing new challenges to workers, in that they are expected to not only be more flexible but also able to cope with requirements changing constantly and increasing time pressure.
This is why staff need cutting-edge digital support that is flexible and can help them get their "Work 4.0" done productively. Many digitalisation projects will not achieve their objectives without digitalised Work 4.0. PRISMA covers this "last mile" in the digitalisation process by embedding content in smart services, when it then turns into smart assistance.
For vehicle servicing, for example, a static maintenance table used to have to be made available on a content delivery portal. But PRISMA now makes it possible to schedule maintenance intelligently, taking account of the intervals, product configuration, service history, service windows, availability of resources and the results of status monitoring. When performing "tailored" servicing, smart services help members of staff according to their specific qualifications and the difficulty of the task in question, providing them with short passages of text, 3D animations, augmented reality scenarios or even a voice assistant.
How does PRISMA work?
PRISMA supports smart services by using GRIPS content, intelligent third-party data (such as imported delivery information in iiRDS format) and real-time data on status, context and staff qualifications, while applying business rules (for calculating time and costs, for instance) at the same time.

Example: Intelligent maintenance scheduling with the PRISMA dashboard
The PRISMA dashboard for scheduling intelligent servicing on a truck-mounted crane provides an example of the numerous possibilities available. It goes without saying that it can be adapted to suit the specific customer in each case.
Personal vehicle data: Information specific to the vehicle – such as its Vehicle Identification Number (VIN), model name and commissioning date – is shown at the top right.
Product status: Under "Product Status", users can see the next suggested service date (14th December 2017) and the number of operating hours that will have been reached by then – calculated using an average of eight hours a day in operation. If the machine is currently being used more than average, the duration of use can be manually updated at any time.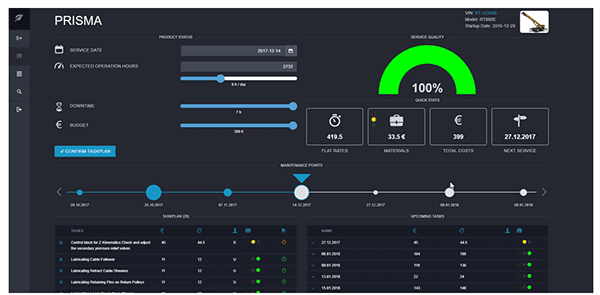 Everything in view and under control: Intelligent service scheduling with the PRISMA dashboard
Details of the service: The middle part of the dashboard shows staff how long the suggested service will take ("Downtime") and how much it will cost ("Budget"). Expenditure is divided into time (419.5 minutes) and material costs (€33.5). The next suggested date for carrying out a service (27.12.2017) is also displayed.
Service timeline: The timeline ("Maintenance Points") shows the service history, the service date currently scheduled and other calculated appointments. The scope of the individual servicing tasks is represented by the size of the circles.
Overview of servicing and materials: At the bottom left, staff can see which servicing tasks they need to carry out – including how much they will cost, how long they will take and what qualifications they need to complete them. A traffic light symbol also shows whether the required materials are already available (green), whether they will be delivered before the service date (yellow) or whether they still need to be ordered (red).
Overview of future service dates: The dashboard displays future scheduled service dates at the bottom right. These can be added to the current service date manually in order to combine servicing tasks and therefore lengthen the interval between one service date and the next.
STAR will be developing more smart services focusing on after-sales in the next few months. Smart services for other areas, such as for end users, in production, in marketing, etc., are also in the pipeline.
The architecture of PRISMA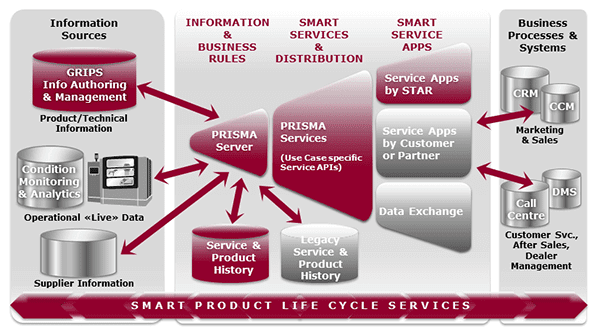 Sources of information: GRIPS is not the only source of information – data/content is also taken from suppliers and third-party systems (e.g. in the new standard iiRDS format), from status monitoring, from (big data) analytics or from an existing product/servicing history.
Smart service apps: The apps can be obtained from STAR or developed by the customer using the GRIPS API as a basis. Other business systems can exchange information with the PRISMA server too.
Media: New media such as augmented/virtual reality and voice assistants can be incorporated into PRISMA and read out too.
The biggest advantages of PRISMA
Higher productivity in after-sales thanks to the digitalisation of processes and work support
Higher added product value thanks to convenient, time-saving additional services for end customers
Lower total cost of ownership thanks to optimised operation, servicing, troubleshooting, etc.
Agile and cost-effective development of new digitalised services
GRIPS Release Notes for 2017.04 Builds 03-05
GRIPS Version 2017.04 Builds 03-05 will be ready to deliver to all customers from mid-December. It contains the following improvements:
Improved insertion of images using drag and drop: You can now drop multiple images on an insertion tag for an information unit (IU). The IU anchors are generated automatically and named according to the file name of the image.If permitted by the project structure, an image IU anchor can also contain multiple images. This makes it easier to link different views of the same object, for example.
Improved Cockpit data conversion: The conversion of special characters (such as "&") when saving and loading Cockpit data has been optimised to avoid publication errors.
Optimised memory manager for Windows 10: The GRIPS memory manager has been improved in order to prevent crashes that occur in Windows 10.
Advert