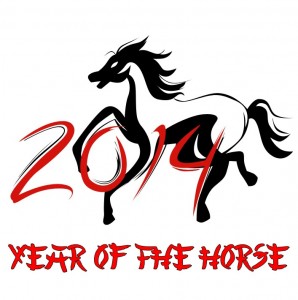 Year of the Horse
From the 31st of January 2014 to the 15th of February 2015, it is the year of the horse according to Chinese zodiac. Chinese Astrology has fascinated many western cultures throughout the ages, as it borrows many western astrological concepts. It also incorporates aspects of Chinese philosophy such as harmony, heaven, earth and water. Chinese ideals, culture and even medicine are based on intricate ideas, which became more complex over time.
Each Chinese year is named after a common animal with this year's being the horse. Whereas the western zodiac signs are named after star constellations and the figures each constellation represents. Depending on where the Sun was positioned in the sky at the time of one's birth was indicative of their zodiac sign. In the Chinese zodiac, animals were assigned to dates and years that were already noted in advance.
The horse is part of a twelve-year cycle of animals. Each animal sign interacts with five elements: earth, fire, metal, water & wood. Thus, each year is not only an animal but an elemental one as well. 2014 is known to many Chinese people as the year of the Wood Horse. Last year's sign was the Water Snake. The horse is also the seventh in this cycle.
What does all of this mean?
The horse is energetic and fiery. Its western equivalent is Gemini. Horses are freedom-loving creatures that crave to roam while their other side yearns for love and intimacy. Both qualities can trap the horse as it follows and independent course but needs companionship to ground it.
The horse is attributed to Summer. Its fixed position is south and its fixed element is fire. Therefore, if you live south of anywhere you can predict fiery situations. Things may heat up for good or for bad during the Summer months. Even if your animal sign is not a horse, the year itself will affect how your sign will interact with it.
If you believe in astrological events and its connections to human behaviour and traits, then you are probably wondering what this means for the year 2014. Well, astrologers are convinced this year will be a prosperous one if you have a business in the agriculture or lumber industries, and media companies (relating to newspapers and magazines). Seeing as the horse likes to gallop at a steady pace before it darts ahead, there will be slow moving in the first half for many businesses until a final latter half of the year of fast-moving markets. Apparently financial companies will suffer this year as are those industries related to metals and water.
Want to know if you were born in the year of the horse?
Here's a list of dates and years to find yours…
Animal
Years
Rat
1936
1948
1960
1972
1984
1996
2008
Ox
1937
1949
1961
1973
1985
1997
2009
Tiger
1938
1950
1962
1974
1986
1998
2010
Rabbit
1939
1951
1963
1975
1987
1999
2011
Dragon
1940
1952
1964
1976
1988
2000
2012
Snake
1941
1953
1965
1977
1989
2001
2013
Horse
1942
1954
1966
1978
1990
2002
2014
Goat
1943
1955
1967
1979
1991
2003
2015
Monkey
1944
1956
1968
1980
1992
2004
2016
Rooster
1945
1957
1969
1981
1993
2005
2017
Dog
1946
1958
1970
1982
1994
2006
2018
Pig
1947
1959
1971
1983
1995
2007
2019
Advert