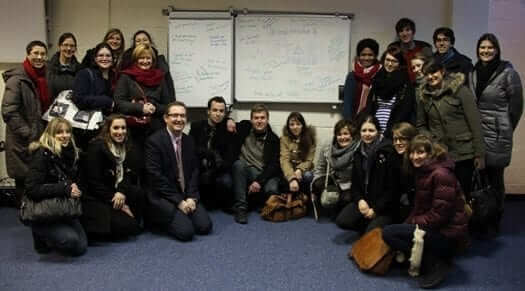 Université Lille 3 Visits STAR Dublin
19 french students from the Master TSM of Université Lille 3 came to visit our offices at STAR Translation Services Dublin with 4 of their teachers on Thursday. The group study languages and translation and in their last year of Masters in Specialised Translation. Their visit was to learn more about the professional translation industry and how they can advance their career in the world of translation. Most of them will become translators, project managers or localization engineers in the language industry. STAR was delighted to welcome them to our facilities and share our knowledge and experience with them.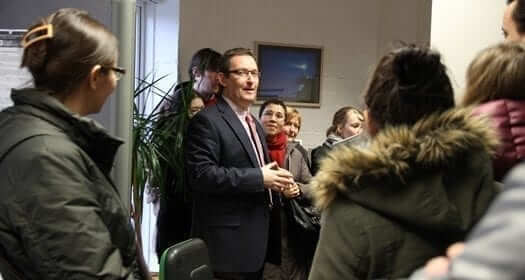 After visiting our offices, accompanied by Damian Scattergood, they took the opportunity to present their Masters programme. Three of the students spoke publicly about their class, the tools they learn to use and their career opportunities. We had some interesting questions for them about their main concerns as students ready to enter the employment market. On one hand, as globalization is a common criteria to develop business, they feel that the market always needs more and more translation.
On the other hand, the translation sector attracts many experienced professionals and applicants. Hence the necessity to develop their work experience and their visibility to prospective employers. They are aware that they have to differentiate themselves in the market to achieve their career goals.
Following our very active discussion and talk about translation at STAR, we are sure that they have all the skills they need to realise their ambitions and potential. The university is very active and gives students an excellent background in all important areas of translation, localization and software technology.
Industry experience is also part of the masters, which really benefits the students' career prospects.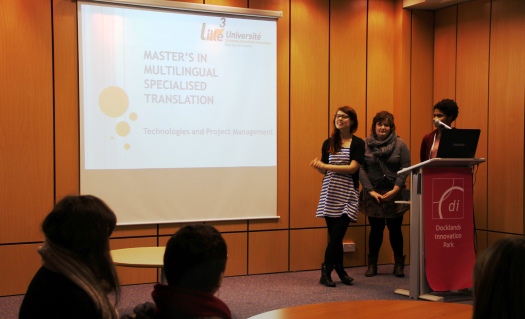 Presentations
Damian Scattergood, managing director of STAR Dublin also talked about STAR Translation. After presenting the company, their main customers and the different range of services provided by STAR, he explained the work involved in running a translation agency. STAR focuses on people to ensure a quality service, process to ensure accurate translation and technology to ensure consistent results.
All our translators are native speaker and we aim to develop a long-term relationship with them. Besides, we are ISO 9001 certified as a translation provider, which is a guarantee that the process we use provides an effective service for our customers.
We were asked about the certifications we had and also about economic questions regarding the impact that the global financial crisis had on our business, and the way we view outsourcing. There was a very interesting debate around this. We also discussed the challenges becoming a translator in a more and more technological world, since automatic translation systems like the Google translator become more sophisticated.

We regularly welcome students for internships. Through the years, we have developed a range of partnerships with colleges and universities to contribute to the training of students. They have the opportunity to work alongside our professional translators and gain experience in the translation business. We wish a big thank you to all the students and teachers from Université Lille 3 for a sharing their students' experiences with us.
If you are interested in applying for an internship at our company, submit your application on our Jobs at STAR page.
Advert