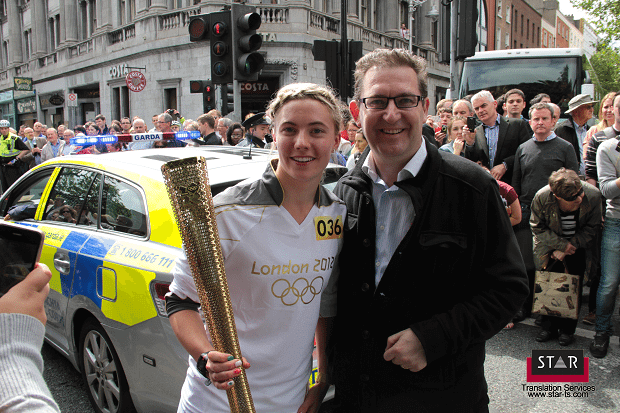 Olympic flame comes to Dublin
Today, 6th of June, the Olympic flame crossed Dublin from Croke Park to  Saint Stephen's Green. We decided to go and take some pictures of our famous Irish athletes.
About 40 bearers carried the torch this morning. How lucky we were to catch up with Bernard Brogan on Samuel Beckett bridge. We thought we might have missed Jedward and fortunately they were just on the bus behind Bernard Brogan waving their hands to the pupils screaming at them.
This gave us some idea of the atmosphere and more that Londoners will see when the flame visits them.
As we are brave, the crowd did not prevent us from joining the end of the Tour at Nassau Street near Merrion Square. What do you think of the picture we took with Natalya Coyle?
Just so you know, the 70-day relay began at Land's End, Cornwall, on 19th May and will arrive at the Olympic opening ceremony in London on 27th July.
We will upload more photos very soon! Or you can see the entire album on our Facebook page.
Advert