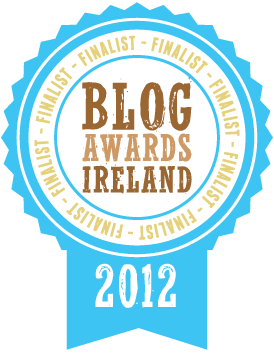 We're delighted to announce our blog is a finalist in the blog awards Ireland 2012. Yippee!
We've put a lot of hard work in this year and it's great to see it being recognized.
What we find amazing is the quality of work by Irish bloggers. Blogging has become a de facto tool for businesses (and non-businesses too). Everything from gardening, to busy mums, to keeping fit, to car maintenance. The list is virtually endless.
I've often asked myself why do people spend so much time blogging? Is it for the money? I doubt it. Personally, I blog for a couple of personal reasons…
Money

Yes. Blogging for business is indirectly about money. You need to connect to your customers so they understand you and build a relationship with you, your brand and your company. All directly tied back to revenue. OK, that's number one, but it's hard to make any direct money with a blog; it's all about branding

Fun

I actually find blogging fun. You get to experiment and share new ideas with people, test ideas on the Web, and also share funny stories. Its a bit like a club that you don't know all the members personally but you share some fun stuff together. The best part is that you can find people that share niche humour together.

Legacy

Finally for me, it's legacy. As I wander through the mid-life crisis (Yes, I am that old), you think about what happens in the future. Will my kids, family and friends ever want to look me up on the Web and find out what mad granddad did? Well at least I've thought about them and am leaving them some digital crumbs to follow. They'll see me doing Irish word of the day videos, read my blogs and see some other interesting content. It will give them a few laughs in the future and a view of where they have come from
Did you ever think blogging would be serious and thought-provoking?
Damian,
Advert