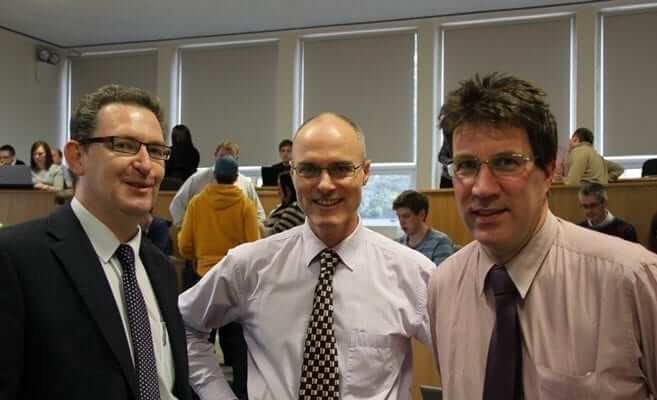 STAR at UCD, Dublin
Damian Scattergood and Paul Quigley from STAR TS were delighted to speak with the students in UCD about Corporate Communication and Outsourcing.
The evening was organized by Allen Higgins who lectures and manages the Global Sourcing Program.
The discussion was on outsourcing/sourcing, managing inside and managing outside; the relationship with clients and suppliers. What is culture and how does it come into the frame? How to manage the interface, who to manage, and listening or being listened to.
Damian and Paul first introduced themselves to the students and outlined their previous professional experience in different companies with very different cultures. Damian was responsible for the development of Symantec's translation and localisation tools. That involved setting the strategy for localization on new platforms and sourcing or developing new tools for the delivery of localized products.
Concurrently, Paul Quigley was Director of translation tools at Oracle in Dublin. He was responsible for the delivery of Oracle translations — over 24 languages.
In 2001, they joined forces to create STAR Translation Services.
We provide website and document translation services into over 40 languages. They work in a global network of 40 offices employing about 800 staff from all over the world.
Working in such a global environment gives Damian and Paul day-to-day experience in outsourcing, insourcing and managing a global culture. They were happy to share their experiences and provide advice about the importance of communication in any global environment.
The interaction with the students was very interesting and they asked many questions about our real-life experiences.
Just some of the topics we discussed during the evening were …
the importance of clear communication
managing cultural diversity
funny problems as a result of bad communication
how to manage communication challenges
how to be sure you are heard, clearly and correctly
how to train new employees, and bring them into your culture
the challenges of mergers and acquisitions
We hope the event provided these future professionals with plenty of good advice and information that will help them start their professional careers with complete confidence.
Advert