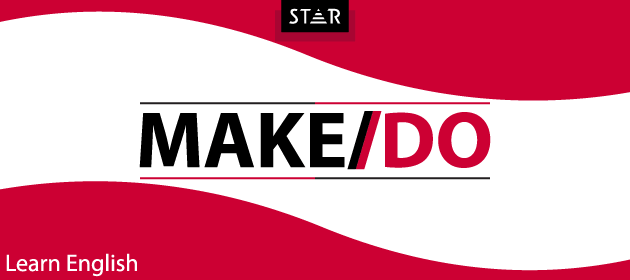 Take the Make or Do Quiz
When it comes to learning English, the infinitive verbs to do and to make follow a set of rules similar to each other. Let's explore the definitions of do and make, and their subsequent collocations… Then, take the quiz!
DO
The rules are a little obscure and not so easy to follow. The verb do describes activities and are placed with words such as what, nothing, anything, thing, etc. People generally use do to talk about leisure activities, duties, tasks, jobs and so forth.
Examples*:
'What shall we do now?' 'You can do what you like. I'm going home!'
'He didn't do anything. He just sat there.'
'You expect me to do everything around the house. Well, I'm fed up!'
'I did all my homework last night so tonight I'm going to do the housework.'
'I did a lot of research and I think I did a good job on that essay. I did my best anyway.'
'I intend to do lots of walking on holiday this year, and perhaps some bird-watching too.'
MAKE
The use of the verb make describes when someone is constructing, creating or performing something.
Examples*:
'I made three suggestions and left it to him to make the final decision.'
'I've made all the arrangements for the trip and I've made a great effort to get it all right.'
'I'm afraid I'm going to have to make my excuses and leave.'
'I have to make three phone calls.'
QUIZ TIME!
Time to test your knowledge now. It's not an easy task for an English language learner; it takes time, knowing your usage, learning more and knowing which verbs collocate with which nouns. Give it a try.
Possible Verb
Sentence (imperative)
do
make
…the washing-up and the cleaning
do
make
…your homework now!
do
make
…an application for your driving licence.
do
make
…an impression.
do
make
…something worth being proud.
do
make
…a fortune, a mess or a profit.
do
make
…business (with somebody).
do
make
…a cake for your sister's birthday, will you?
do
make
…an effort to be nice (to someone).
do
make
…amends for your bad behaviour.
do
make
…the right thing tonight and be polite to her.
do
make
Can you…the dinner this evening as I'll be out until late?
do
make
…an announcement or a speech.
Advert