Using the Plug-in for translation
A guide to using the WordPress plug-in for translation.
The WordPress Plug-in for translation Menu
Once set-up is complete, you will see a number of new options in the Dashboard menu. Below is an overview for the each relevant section within the WordPress plug-in for translation menu area.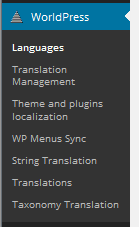 Using the WordPress Plug-in Options
Languages
You can change various things in the setup here. e.g. add languages, change the appearance of the language switcher.
Translation Management and Dashboard
Gives an overview of the translation status of pages or posts. It allows you to send pages for translation, manage translators and their language pairs and various other options.
Theme and Plug-in Localization
This allows you to check on text files that may be available for your themes and plug-ins, and for WordPress itself.
WP Menus Sync
Allows you to synchronize the navigation menus across the languages. It will match pages with their translation and use the titles as the menu item text for that language, e.g. if the title of the home page was translated into the French word Accueil, this will be suggested as the French menu text when looking at the site in the French language.
String Translation
This section allows you to translate the strings in your themes and plug-ins, either directly within WordPress or by exporting them to a PO file.
Translations
If you are logged in as a user that is set-up as a translator, then this menu item allows you to access the translations assigned to you. Download the source and upload the target files.
Download the WordPress WPML plug-in for translation.