Theme and Localization
A guide to the WordPress plug-in for translation.
Table of Contents
Theme and Plug-in Localization
WordPress Plug-in Theme and Localization Explained
WordPress themes can be translated using PO (i.e. .po) files. This is how WordPress itself is translated. Many languages are already available via WordPress in your language
This module will also look in certain locations for MO (i.e. .mo) files (machine readable [compiled] version of PO files) to use when displaying text in other languages.
WordPress Themes and Localization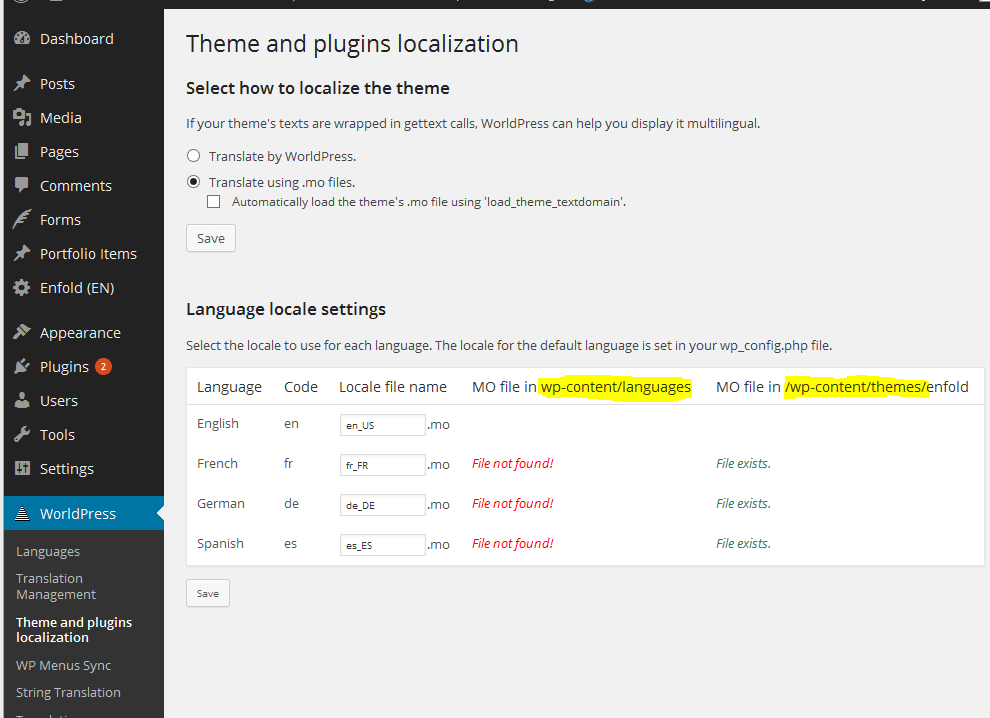 Select how to localize the theme
This setting allows you to pick whether to translate the theme from inside WordPress or whether to use .po or .mo files which can be translated using external tools.
Language locale settings
This setting allows you to change the name of the file to look for when displaying a particular language. In the example above, English is contained in the file en_US.mo.
It also allows you to see which .mo files are missing for WordPress itself and for the currently active theme.
If you choose Translate by WordPress plug-in, choose from the options available in the "Select how to localize the theme" section at the top. You will have two additional sections available on this page.
Strings in the theme
This gives an overview of the themes and links to String Translation when you click on one of the "Show the theme's Strings".
Strings in the plug-ins
This allows you to create .po files for each of the plug-ins. If you are working from an English base installation, a lot of these strings do not need to be translated as they are used in the administration back end of the site and not shown to the public.
However, if you have non-English speakers also administering your site, you may want to translate these strings so that, for example, your French editor can see the administration interface of a plug-in in their native language.
Error: Contact form not found.