World Monetary Values
A guide to the layout of the most common world monetary values.
International Monetary Values
All countries have their way of displaying monetary values differently. Most European countries will display the currency symbol after the value or amount. Then there is the decimal point type; either a comma or full stop represents the decimal place.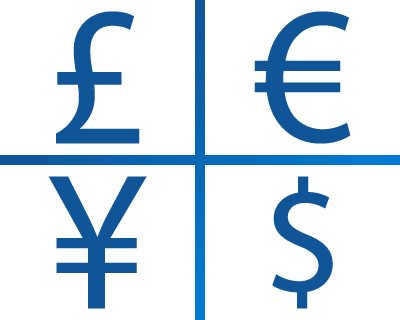 Common World Monetary Values — Positions and Decimal Points
| Language | Currency | Symbol & Position | Decimal Point Type |
| --- | --- | --- | --- |
| American English | Dollar | $10 | $10.50 |
| Arabic (UAE) | Dirham | 100إ.د (AED) | 100,50إ.د (AED) |
| Brazilian Portuguese | Real | R$ 100 | R$ 100,50 |
| British English | UK Pound | £10 | £10.50 |
| Bulgarian | Lev | 100 лв | 100,50 лв |
| Catalan | Euro | 10 € | 10,50 € |
| Croatian | Kuna | 100 kn / 100 EUR | 100,50 kn / 100,50 EUR |
| Czech | Koruna | 100 Kč / 100 eur | 100,50 Kč / 100 eur |
| Danish | Krone | 100 kr | 100,50 kr |
| Dutch | Euro | € 10 | € 10,50 |
| Estonian | Euro | 10 € | 10,50 € |
| Finnish | Euro | 10 € | 10,50 € |
| French | Euro | 10 € | 10,50 € |
| German | Euro | 10 € | 10,50 € |
| Greek | Euro | 10 € | 10,50 € |
| Hungarian | Florint | 100 Ft | 100,50 Ft |
| Icelandic | Krona | 100 kr | 100,50 kr |
| Indonesian | Rupiah | Rp100 | Rp100,50 |
| Irish | Euro | €10 | €10.50 |
| Italian | Euro | 10 € | 10,50 € |
| Japanese | Yen | 100¥ | 100.50¥ |
| Korean | Won | ₩ 100 | ₩ 100.50 |
| Latvian | Euro | 10 € / 10 EUR | 10,50 € / 10,50 EUR |
| Lithuanian | Euro | 10 € / 10 EUR | 10,50 € / 10,50 EUR |
| Macedonian | Denar | ден 100 | ден 100,50 |
| Malay | Ringgit | RM 100 | RM 100.50 |
| Norwegian | Krone | kr 100 | kr 100,50 |
| Polish | Zloty | 100 zł | 100,50 zł |
| Portuguese | Euro | 10 € | 10,50 € |
| Romanian | New Leu | 100 lei | 100,50 lei |
| Russian | Ruble | 100 руб | 100,50 руб |
| Serbian-Cyrillic | Dinar | 100 ,ин. | 100,50 ,ин. |
| Simplified Chinese | Yuan Renminbi | 100¥ | 100.50¥ |
| Spanish | Euro | 10 € | 10,50 € |
| Spanish Mexican | Mexico Peso | 100 $ | 100,50 $ |
| Swedish | Krona | 100 kr | 100,50 kr |
| Tagalog (Filipino) | Philippine Peso | ₱100 | ₱100.50 |
| Thai | Bhat | 100 ฿ | 100.50 ฿ |
| Traditional Chinese (Hong Kong) | Hong Kong Dollar | HK$100 | HK$100.50 |
| Traditional Chinese (Taiwan) | Taiwan New Dollar | NT$100 | NT$100.50 |
| Turkish | Lira | 100 ₤ | 100,50 ₤ |
| Ukrainian | Hryvnia | 100 ₴ | 100,50 ₴ |
| Vietnamese | Dong | 100 ₫ | 100,50 ₫ |