What is ISO 17100 Certification?
The quality standard for translation service providers.
The ISO 17100 standard ensures the consistent delivery of quality for translation service companies. It certifies that the company has a system in place to manage its translation process.  So you know your translation has been produced to a strict standard and is good.
View our official certification here:  ISO 17100 Certificate
The Certificate
ISO 17100 certified companies must document and show:
For Translators: They must have basic requirements for human resources and processes used in the provision of translation services. This includes a process for hiring quality translators and training. So you know the quality of the people you are working with.
Customer – Translation Services Provider (TSP) relationship: Must track and maintain good customer and provider relationships. This may include quality audits done on a regular basis. This means quality gets better all the time.
Procedures for translation services: Must have a fully documented translation process and quality management system. So with a consistent process you know it is easier to check for errors. You know the translation output will be similar across all projects.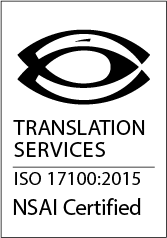 NSAI Certified: ISO 17100:2015