WebTerm
Terminology Management Systems
In today's global markets, uniform corporate branding is more important than ever. Do your products and documentation deliver a consistent corporate image, brand and terminology? Do support, marketing, development and finance departments all speak the same language?
Key Benefits
Consistent terminology
Effective branding
Efficient global communication
Faster validation process
Managing Your Terminology
Standardised terminology is an indispensable part of your brand image. Maintaining corporate terminology on an international level is simplified by using terminology management systems such as WebTerm.  Teams across the world can communicate their views and implement terminology revisions making the process faster, cheaper and effective; changes to terminology are instantly available around the world to all your team. WebTerm is ideal for the translation of technical manuals.
Main Features:
WebTerm is ideally suited to validating terminology databases on an international scale. It includes the ability to gather suggested changes and amendments from your global teams across the web. Your terminology will always be up to date – globally.
Terminology can be browsed alphabetically or specific terms can be searched for directly or with "wildcards". TermStar supports all major languages including Asian languages such as Japanese and Chinese. WebTerm is set up directly on the TermStar database, which is installed on an SQL database server with internet interfaces such as Oracle, Sybase or MS-SQL.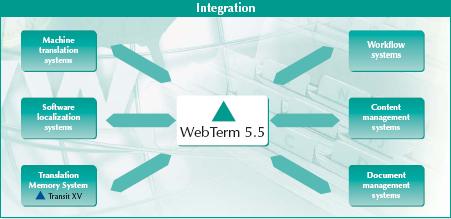 Key Benefits
Efficient global communication reduces management costs;
Your terminology validation process is faster thanks to the input of virtual teams;
Data management is made easier as a result of having a central repository for all information;
Integrates directly into the Transit NXT translation memory system.