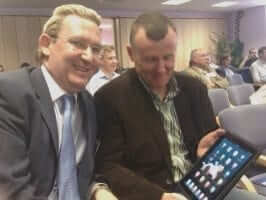 iPhone and iPad Localization for Apps
Yesterday we got our hands on one of the first iPads in Ireland at the Guinness Enterprise Centre's Open Enterprise day for new software development start-ups.
It was a tough day — 08:30 to 19:30 — probably one of the most exciting events we've attended. Congratulations to all involved.
The keynote speaker was Jonathan Siegel, founder of the consultancy ELC Technologies. ELC build cool applications from FunnyOrDie to ESPN and Nascar. Jonathan showed a great passion for software application development and how the iPhone and iPad had broken the mould and opened up some very exciting development opportunities for software companies.
He demoed the new iPad and some of their applications. Apple have already sold over one million iPads worldwide. The iPhone technology currently has an installed user base of some 80 million users.
We discussed iPad Localization and iPhone app translation and how this was the next challenge for the platform.
Pat Walsh from Diary Plan and Damian Scattergood, STAR Translation, Dublin discuss the iPad localization process.
Make an iPad App
The interactive session with Collin Ruffenach took a brief look at the iPhone and iPad marketplace and then dived into the dirty work of building an iPad application. With the help of a few iPads in the room, a brief overview of XCode and the iPhone SDK, we got a glimpse of how to build your first application.
Visit the Apple iPad developer kit for more information.
If you would like to learn more from the experts in Jonathan's Team at ELC, visit iCode Blog.
If you are developing an application for the iPhone or iPad and are looking at localization, we would be really interested in partnering with you in this area. Call us for a free quote today on +353 1 836 5614.