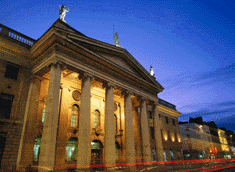 STAR speaks Irish for Seachtain na Gaeilge
Press release: Monday 5th March 2012.
We officially launched the video series 'Irish Word of the Day', teaching you how to say a number of common phrases in the Irish language. Learn how to say 'hello', 'thank you' and 'can I have a pint of beer, please?' alongside other popular Irish phrases.
To promote the Irish language and culture, we will publish a new video every morning as part of a special Irish-week campaign.
It includes:
15 Irish-word-of-the-day videos. They are accessible to everybody whatever your command of Irish.
Special articles about Irish culture and Saint Patrick's day.
We'll also be trying to blog, tweet and socialize as Gaeilge freisin (in Irish as well). We look forward to sharing new content in Irish from the 5th to 16th of March.
We are on the following social networks (see links in footer):
Facebook
Twitter
Google+
YouTube
LinkedIn
About us
Based in Dublin, STAR Translation provides translation services in over 40 languages. We translate documents and websites for all our international customers every day. With more than 800 people in the STAR Group worldwide, we give you confidence in a translated world.
Damian Scattergood and Paul Quigley founded STAR Translate in 2001. The entrepreneurs have successfully grown the company to a leading language agency in Ireland in the 10 years that they have been in business together.
The STAR Team
http://www.star-ts.com/wp-content/uploads/2016/04/star-logo-5-segments_v2.png
0
0
Star Translation
http://www.star-ts.com/wp-content/uploads/2016/04/star-logo-5-segments_v2.png
Star Translation
2012-03-02 19:05:26
2016-08-02 14:12:45
STAR speaks Irish for Language Week