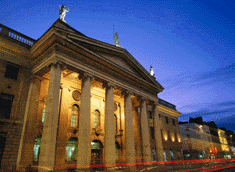 Several Members of the Dáil can Speak Irish
Dáil business to be conducted in Irish for Irish Language Week. This year during Irish Language Week, on 7th of March, the main business of the Dáil will be conducted in Irish. The Irish Times reported this weekend that Dáil Éireann will conduct business through Irish during the event to mark the occasion. It will be very interesting to see who will be able to converse correctly and if any real business will be done.
For the Taoiseach, Enda Kenny, it should be an easy enough day for him. Deputy Éamon Ó Cuív will comfortably take the opportunity to talk about issues other than Gaeilge. But the pressing question is, who will answer for the technical group?. How many deputies can speak and discuss the tougher political agenda of the day in Irish?
The Irish Times bet on Joe Higgins… Who would you bet on?
If they need help, they could ask us here at STAR Translation for Irish translation services. We also translate into over 70 languages.
The STAR Team