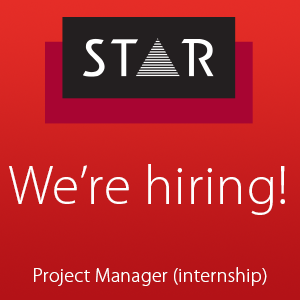 Job Opening: Project Manager Internship
About Us
Based in Docklands Innovation Park, Dublin, STAR is a provider of translation services in 40 languages. Founded in 2002, we are a privately held company and a member of the STAR Group — Europe's largest privately held translation company. STAR has over 40 offices around the world.
Our student placement program is for foreign students who are interested in 6 months placements to gain experience in the translation business and improve their English language skills. Much of the work we do here is related to project management only. We do not do any translation work on-site. Our teams in Dublin manage projects for clients and sends the work to a country's STAR office for the translation into its respective language i.e. German translation goes to Germany.
Key Tasks and Responsibilities
Project Planning and Scheduling
Send and receive translation projects
Sending and receiving jobs to our teams within the STAR network. This includes managing translators' deadlines. Candidate should have strong organisational skills, ability to multitask and prioritise appropriately. Strong verbal skills to communicate with clients and the ability to coordinate translation and DTP components are a necessity. A strong command of Microsoft Word and Excel is required.
Handling the volume of many projects: this role is key to ensuring the smooth operation of day-to-day business
Project Management
The main work of the Project Manager here in Dublin is to prepare the files for translation
Check the files for segmentation and layout issues before translation
Prepare word counts / costings and translation kits for the teams
Sending out of translation kits
Updating of project management database and importing files afterwards
Translation exporting and doing DTP work on final files
Checking invoices sent from translators for projects
Apply OCR to paper files that have been submitted for translation
You will get to see a wide scope of tasks in our office, as we work on a number of file formats and different languages.
Client Relationship Management
You may work directly with some clients, as part of this role involves establishing a strong working relationship is with our clients; STAR prides itself on its long term relationships with its clients.
DTP Skills
Part of your role is to prepare files for translation and fixing layout issues on the translated files after translation. This involves working with complex file layouts in Microsoft Word, for example. A good all-round knowledge of different file
formats and systems is also required.
Training Program
STAR Translation is both ISO 9001 and BS EN 15039 certified, so training starts with these processes. You will be given an overview of all relevant processes.
You will be shown how to complete the first step process
Undertake the first step process under supervision
Complete the first step on your own (asking for support when necessary)
This staged training approach is then repeated for the next step of the process and so on, until you have mastered all of STAR's processes.
Key Skill Requirements
Excellent communication and organisational skills
Good written and spoken English
Strong focus on quality
Excellent knowledge of standard computer software such as Microsoft Outlook, Excel and Word
Ability to manage multiple projects and work well under pressure
Contact Damian Scattergood for more information about this position.
The STAR Team
https://www.star-ts.com/wp-content/uploads/2020/03/STAR-logo-340x174-1.jpg
0
0
Star Translation
https://www.star-ts.com/wp-content/uploads/2020/03/STAR-logo-340x174-1.jpg
Star Translation
2014-08-05 12:40:22
2018-11-13 10:20:37
Job Vacancy: Project Manager Internship