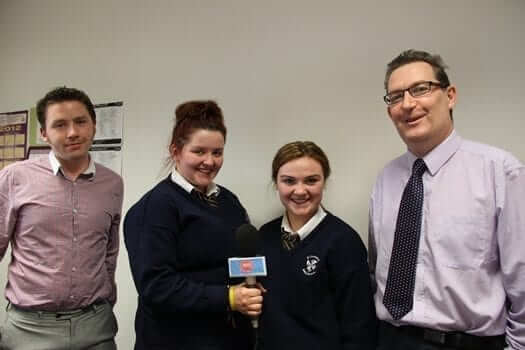 Cá Bhfuil an Obair? WDAR Radio 96FM, launches a new radio series highlighting job opportunities in Irish and interviewed STAR Translation.
On Tuesday the 29th of May 2012: 'Cá Bhfuil an Obair?, a four-part bilingual radio series exploring career possibilities available through the Irish language.
Irish in the Working Environment
Produced and presented by 4th and 5th year students from the gaelscoil Coláiste Chilliain, Clondalkin and Saint Dominic's Girls' Secondary School in Ballyfermot, each half hour programme will focus on a different area of work where the ability to use the Irish language is a major advantage.
The areas covered are translation; education; communications and media; and to also promote the Irish language. The series is aimed at students of Junior and Leaving Certificate level and is produced in association with West Dublin Access Radio.
'Cá Bhfuil an Obair?' will be broadcast each morning at 10:30 from Tuesday the 29th of May to Friday the 1st of June.
Programme 1: Translation, 10:30 on Tuesday 29th May

Our reporters visited our offices in Dublin to find out about life as a translator, interviewing Damian Scattergood, the company's managing director and language staff.

Program 2: Education, 10:30 on Wednesday 30th May

Teachers from the reporters' schools talk about teaching in both English and Irish speaking schools.

Program 3: Communications and Media, 10:30 on Thursday 30th May

A visit to Stillwater Communications in Dublin, provided our reporters with an insight into how the Irish language thrives in the world of media.

Program 4: Promoting the Irish Language, 10:30 on Friday 1st June

The 'Cá Bhfuil an Obair?' team find out about the type of work opportunities available in promoting the Irish language, as well as potential careers in other areas using Irish.
"We are delighted to work with WDAR on this community project. Irish is still a thriving language and this series shows how the language is used in everyday life." "Irish is actually our 3rd most popular language into which we translate." — Damian Scattergood
Share this article with your friends to aid in their Irish language skills. We hope to have a lot of listeners on Tuesday to give us as much feedback as possible.
We are always looking to improve our content. Leave a comment with your opinion about the interview or drop a suggestion regarding translation or languages.
The STAR Team
https://www.star-ts.com/wp-content/uploads/2019/09/STAR-web-logo.png
0
0
Star Translation
https://www.star-ts.com/wp-content/uploads/2019/09/STAR-web-logo.png
Star Translation
2012-05-25 15:18:53
2018-11-13 10:24:20
Cá bhfuil an obair? Jobs in Irish